The Common Room: Stranger Care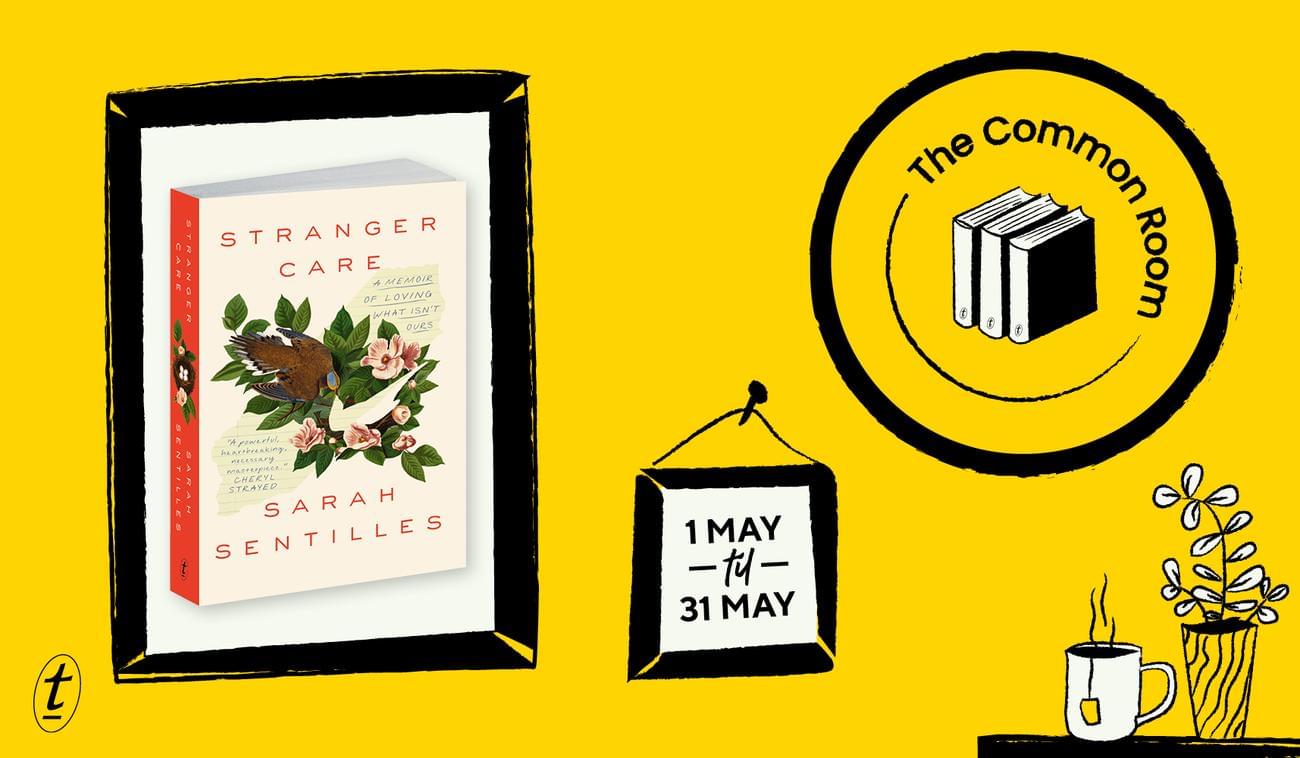 We're delighted to announce that this May in the Common Room we'll be reading Stranger Care by Sarah Sentilles. This is a memoir like no other. 
After deciding not to have a biological child, Sarah Sentilles and her husband, Eric, try to adopt a baby through the American foster-care system. Knowing that the system aims for reunification with the birth family, they open their home to a flurry of social workers who question, evaluate, and prepare them to welcome a child into their lives – even if it most likely means giving that child up later. 
This is a book about how we are deeply connected to other people, not merely by bloodlines, but by community: by care and compassion.
Cheryl Strayed described it as 'beautiful, harrowing and profound'. We can't wait to read it with you next month.
See you in the Common Room.

How do I sign up?
Become a Common Room Member by heading over to our private Facebook group. We require your email address, which will automatically subscribe you to Text's monthly enewsletter.* Once you're in the Common Room, introduce yourself to the group and start interacting with your fellow book-club members. No need to be shy, we all have at least one thing in common: books!
What does it mean to be a member?
You get to interact with the loveliest group of bibliophiles on the internet (we're not biased, we swear). You also get an exclusive 10% discount code for this month's book when you buy a copy from Readings! You can find the code pinned to the top of the Common Room discussion board. This offer is valid until 31 May 2021 and is not valid on any other products or with any other offers. Orders will ship when the book is in stock in early May.
When do we chat books?
Reading officially begins on 1 May. We'll come back together in the Common Room at 7pm on Monday 31 May to chat about the book. There will be an opportunity for readers to send in video questions to Sarah Sentilles throughout the month. The responses will go live during our discussion. We'll be checking in throughout May too, so feel free to share your thoughts and photos of your reading journey with the group.
How often does the book club run?
Quarterly. The next book club is in July 2021 and then again in October.
If you have any questions, please contact our Common Room administrator Kate Lloyd at kate.lloyd@textpublishing.com.au.




*Get in touch with us if you'd like to unsubscribe from Text's marketing emails.
FRIENDS OF THE CHILLER
SUBSCRIBE TO TEXT'S NEWSLETTER