The Common Room: Show Me Where it Hurts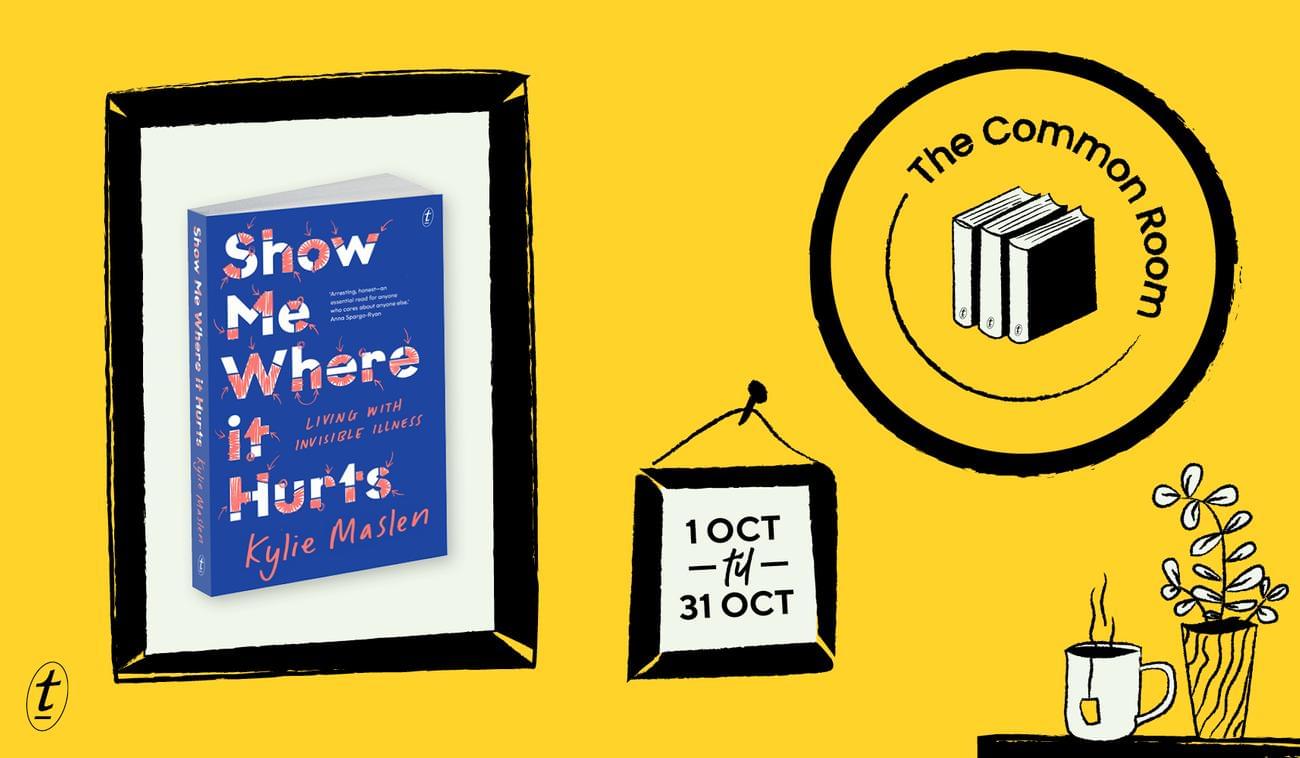 We're thrilled to have recently published Show Me Where it Hurts by Kylie Maslen – a powerful account of a life with an invisible illness, explored through a lens of pop music, art, literature, TV, film and online culture. And we're even more excited that it has been chosen as the October Common Room pick by popular vote. 
Anna Spargo-Ryan described Show Me Where it Hurts as 'an essential read for anyone who cares about anyone else', and we couldn't agree more. We can't wait to discuss it with you.
Kylie Maslen has been living with invisible illness for twenty years – more than half her life. Its impact is felt in every aspect of her day-to-day existence: from work to dating; from her fears for what the future holds to her difficulty getting out of bed some mornings. 
Show Me Where it Hurts is a powerful collection of essays that speak to those who have encountered the brush-off from doctors, faced endless tests and treatments, and endured chronic pain and suffering. But it is also a bridge reaching out to partners, families, friends, colleagues, doctors: all those who want to better understand what life looks like when you cannot simply show others where it hurts. 
Haven't joined the Common Room yet? Now's the time!

How do I sign up?
Become a Common Room member by heading over to our private Facebook group. We require your email address, which will automatically subscribe you to Text's monthly enewsletter.* Once you're in the Common Room, introduce yourself to the group and you can start interacting with your fellow book-club members. No need to be shy: we all have at least one thing in common – books!
What does it mean to be a member?
You get to interact with the loveliest group of bibliophiles on the internet (we're not biased, we swear) in our private Facebook group. Once you're a member, you'll have access to behind-the-scenes snippets and the opportunity to win fabulous prizes!
When do we chat books?
This month's reading officially begins on Thursday 1 October. Our wonderful friends at Imprints are offering a 10% discount on Show Me Where it Hurts until 15 October. So, order your copy from their online store today, grab some snacks and settle in for some nights of self-isolation. Be sure to post some snaps in the Common Room and share your reading journey. We'll meet you in the Common Room on Saturday 31 October with thought-provoking questions and discussion points about the book.
How often does the book club run?
Quarterly. The next book club is in January 2021, and then in April.


If you have any questions, please contact our Common Room administrator, Kate Lloyd: kate.lloyd@textpublishing.com.au.
We're looking forward to seeing you all in the Common Room! 
*Get in touch with us if you'd like to unsubscribe from Text's marketing emails.
FRIENDS OF THE CHILLER
SUBSCRIBE TO TEXT'S NEWSLETTER