The Common Room: Shelter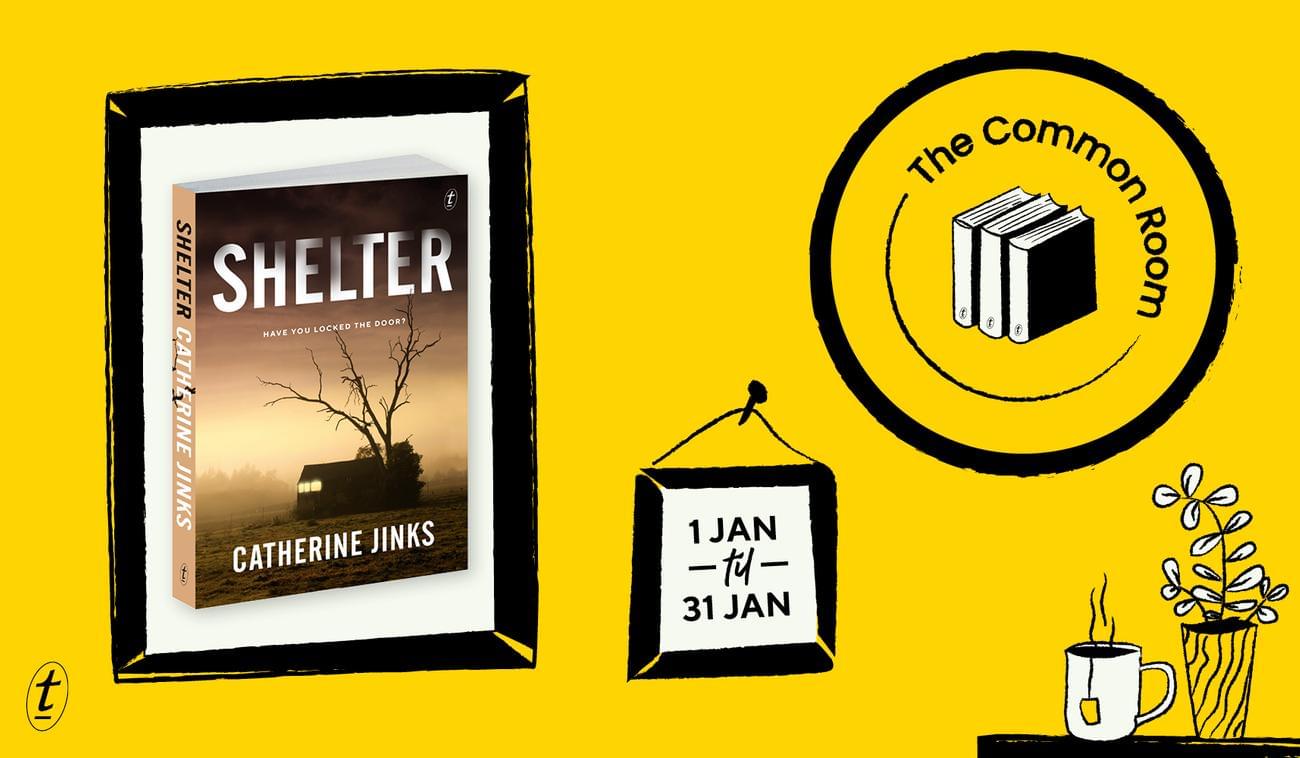 We're kicking off 2021 in the best way we know how: reading. Most likely on a beach somewhere. Join us in the Common Room this January as we get stuck into Catherine Jinks' spine-tingling new thriller, Shelter. 
Meg lives alone in a little place in the bush outside town. A perfect place to hide. That's one of the reasons she offers to shelter Nerine, who's escaping a violent ex. The other is that Meg knows what it's like to live with an abusive partner. But not everything is as it seems. A disturbed flyscreen. A tune playing on her windchimes. Has Nerine's ex tracked them down? Has Meg's husband turned up to torment her some more?
By the time Nerine finds out, it'll be too late to do anything but run for her life.
Want to join in? We'd love to have you!
How do I sign up?
Become a Common Room Member by heading over to our private Facebook group. We require your email address, which will automatically subscribe you to Text's monthly enewsletter.* Once you're in the Common Room, introduce yourself to the group and start interacting with your fellow book-club members. No need to be shy, we all have at least one thing in common: books! 
What does it mean to be a member?
You get to interact with the loveliest group of bibliophiles on the internet (we're not biased, we swear). You also get an exclusive 10% discount code for this month's book when you buy a copy from Readings! You can find the code pinned to the top of the Common Room discussion board. This offer is valid until 31 January 2021 and is not valid on any other products or with any other offers. Orders will ship when the book is in stock in early January. 
When do we chat books?
Reading officially begins on 1 January. We'll come back together in the Common Room at 7pm on Monday 1 February to chat about the book. We'll be checking in throughout January too, so feel free to share your thoughts and photos of your reading journey with the group.
How often does the book club run?
Quarterly. The next book club is in April 2021 and then again in July.
If you have any questions, please contact our Common Room administrator Kate Lloyd at kate.lloyd@textpublishing.com.au.
We're looking forward to seeing you all in the Common Room!
FRIENDS OF THE CHILLER
SUBSCRIBE TO TEXT'S NEWSLETTER