The Common Room: Sand Talk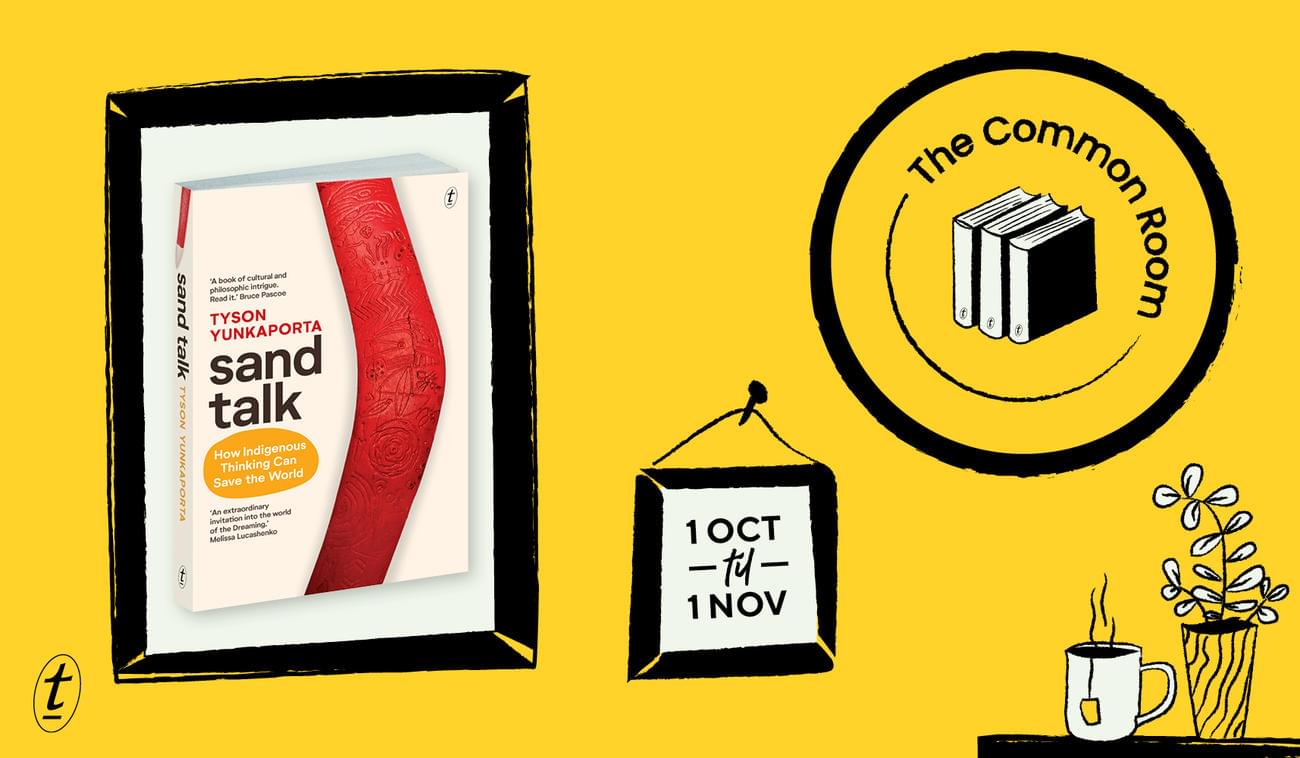 Can you believe it's almost time for our next Common Room book club? Prepare yourself. We're back with a (big) bang, because our October pick talks about everything from just that to block chain.
We're going to be reading Tyson Yunkaporta's remarkable book, Sand Talk: How Indigenous Thinking Can Save the World. And we're very lucky to have Tyson joining the online discussion.
Sand Talk asks readers to consider what happens when we view the world from an Indigenous perspective. It is about everything from echidnas to evolution, cosmology to cooking, sex and science and spirits to Schrödinger's cat. And it's about looking at things in an old/new way to create a more sustainable world. We can't wait to read it with you.
Missed our first Common Room book club? No worries. It's never too late to join. Here's how it works: 
How do I sign up?
Become a Common Room Member by heading over to our private Facebook group. We require your email address, which will automatically subscribe you to Text's monthly enewsletter.* Once you're in the Common Room, introduce yourself to the group and start interacting with your fellow book-club members. No need to be shy, we all have at least one thing in common: books! 
What does it mean to be a member?
You get to interact with the loveliest group of bibliophiles on the internet (we're not biased, we swear). You also get an exclusive 10% discount code for this month's book when you buy a copy from Booktopia! You can find the code pinned to the top of the Common Room discussion board. This offer is valid until 7 October. 
When do we chat books?
Reading officially begins on 1 October. Sand Talk author Tyson Yunkaporta will be leading the discussion on Friday 1 November from 7pm. So, come prepared to chat through the themes and ideas of the book, and ask Tyson any questions you may have. The floor is yours.
We'll be checking in throughout October with thought-provoking questions and discussion points about the book. Feel free to share your thoughts and photos of your reading journey with the group – we're all in this together. 
How often does the book club run?
Quarterly. The next book club is in January 2020 and then again in April 2020.
If you have any questions, please contact our Common Room administrator Kate Lloyd at kate.lloyd@textpublishing.com.au.
We're looking forward to seeing you all in the Common Room!
*Get in touch with us if you'd like to unsubscribe from Text's marketing emails.
FRIENDS OF THE CHILLER
SUBSCRIBE TO TEXT'S NEWSLETTER