The Common Room: Nothing to See Here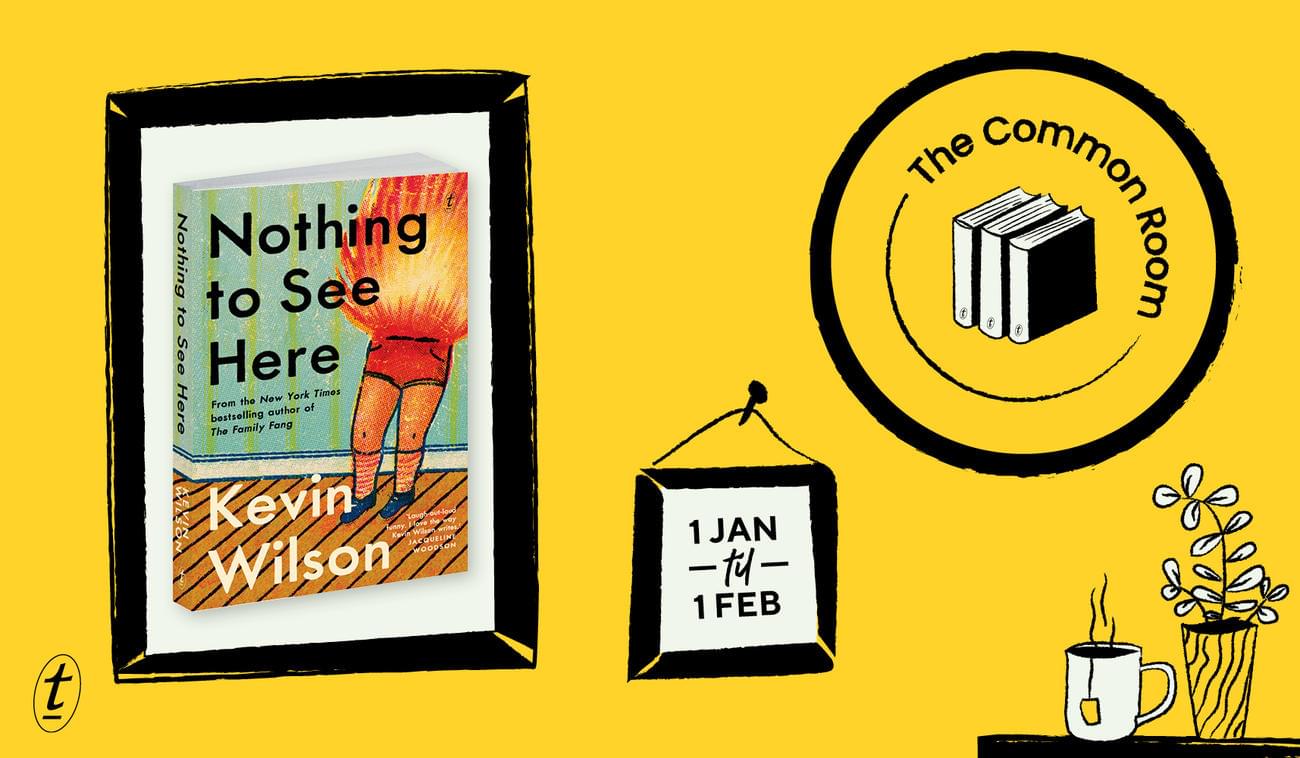 Add 'join a book club' to your new year's resolutions because we're kicking off 2020 with the perfect summer read. The Common Room book club will be reading the New York Times bestselling novel Nothing to See Here by Kevin Wilson this January. It's funny, has heart, depth and is completely unputdownable. Trust us, you're going to want to get on board with this one, especially if you intend to while away your holidays at the beach. 
Described as 'brilliant', 'moving' and 'surprisingly sweet', it's Taffy Brodesser-Akner from The New York Times who said it best when she exclaimed, 'Good lord, I can't believe how good this book is.'
In Nothing to See Here, we meet college dropout Lillian who has agreed to babysit her best friend Madison's unusual twin step-kids. She doesn't have children and has no prior experience, but with nothing else going on, she feels she's up to the task. Little does she know, there's a catch: the twins spontaneously combust when they get upset or excited. How can Lillian protect these children and give them the love and care they deserve without putting herself in danger? What follows is a hilarious and compassionate story about family, friendship and fire.
Want to join the Common Room? Come on in! Here's how it works: 
How do I sign up?
Become a Common Room Member by heading over to our private Facebook group. We require your email address, which will automatically subscribe you to Text's monthly enewsletter.* Once you're in the Common Room, introduce yourself to the group and start interacting with your fellow book-club members. No need to be shy, we all have at least one thing in common: books! 
What does it mean to be a member?
You get to interact with the loveliest group of bibliophiles on the internet (we're not biased, we swear). You also get an exclusive 10% discount code for this month's book when you buy a copy from Readings (offer not valid in-store). You can find the code pinned to the top of the Common Room discussion board. This offer is valid until 20 January. 
When do we chat books?
Reading officially begins on 1 January (after the New Year hangover subsides). So, grab your copy, pop it in your beach bag and post snaps in the Common Room group showing us where you're reading Nothing to See Here. 
How often does the book club run?
Quarterly. The next book club will run in April 2020 and then again in July.
If you have any questions, please contact our Common Room administrator Kate Lloyd at kate.lloyd@textpublishing.com.au.
We're looking forward to seeing you all in the Common Room!
*Get in touch with us if you'd like to unsubscribe from Text's marketing emails.
FRIENDS OF THE CHILLER
SUBSCRIBE TO TEXT'S NEWSLETTER