Reckoning's Award Bonanza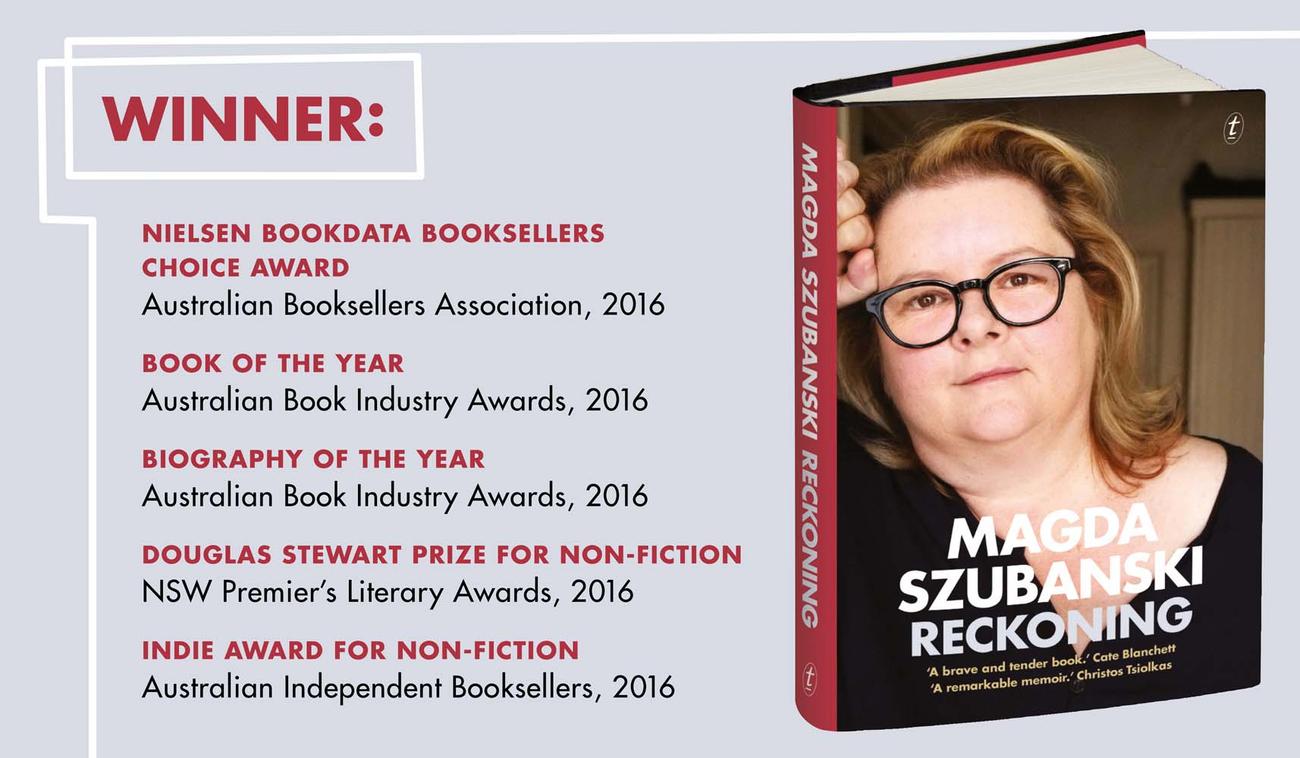 Yes, Magda Szubanski's Reckoning has picked up another award: this time, it's the Australian Booksellers Association (ABA) Nielsen Bookdata Booksellers Choice Award. This award recognises the Australian new release that booksellers most enjoyed reading, marketing and handselling during the previous year. What wonderful recognition from the book community!
Reckoning is fast becoming the must-read Australian book of 2016.
• Winner, 2016 Nielsen Bookdata Booksellers Choice Award, Australian Booksellers Association
• Winner, 2016 Book of the Year, Australian Book Industry Awards
• Winner, 2016 Biography of the Year, Australian Book Industry Awards
• Winner, 2016 Douglas Stewart Prize for Non-Fiction, NSW Premier's Literary Awards
• Winner, 2016 Indie Award for Non-Fiction, Australian Independent Booksellers
Discover why Australian booksellers love Reckoning—download bookclub notes, watch a video of Magda talking about this incredible book, read reviews, hear interviews and more.
The ABA Awards were announced at the 2016 ABA conference held at the National Gallery of Australia in Canberra on 29 May.
Also announced on the evening were the recipients of the Bookseller of the Year Awards, proudly sponsored by Text. This year it was shared by two fantastic booksellers—Deb Force from The Sun Bookshop in Yarraville, Melbourne and Anna Low from Potts Point Bookshop in Potts Point, Sydney.
Awards were also given to the Young Bookseller of the Year—Amelia Lush from Better Read Than Dead in Newtown, Sydney—and the Elizabeth Riley Fellowship for Children's Bookselling, which went to ABA communications manager and Kid's Reading Guide organiser Robyn Huppert.
Congratulations to all winners! 
FRIENDS OF THE CHILLER
SUBSCRIBE TO TEXT'S NEWSLETTER