Kate Ryan on My Accidental Career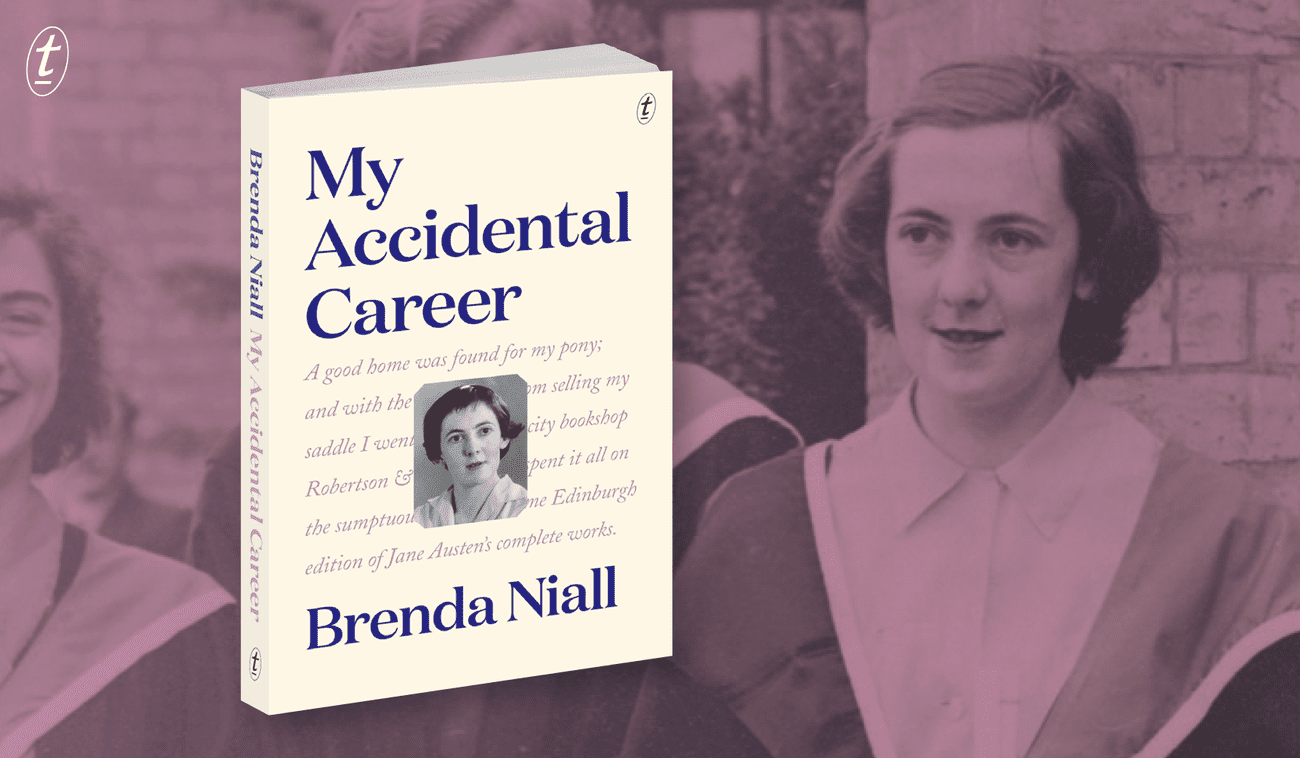 At the end of March, Brenda Niall launched her latest book, My Accidental Career, at a party to mark her ninety-first birthday. Here is Kate Ryan's launch speech...
---
First of all I would also like to acknowledge the Wurundjeri people on whose land we gather and to pay tribute to their elders, past, present and emerging. This land is unceded. It was, and always will be, Aboriginal land.
I am so pleased and honoured to be here to launch Brenda Niall's fascinating memoir My Accidental Career. Some people will be aware that I am Brenda's niece, and my relationship with her as my mother Philippa's sister has been central to my life. Brenda has been a generous, funny, interesting and interested aunt. But apart from that – though imagining that is difficult because I cannot imagine my life without Brenda in it – she has been an inspiration for me as a feminist, as a professional person and, above all, as a writer. I remember someone asking me whether, in my family, lesser things were expected of me and my sisters, compared with my brothers in terms of career. Without hesitation I said no.
I expected to have a university degree, to make my own living and to do as well as my brothers. This expectation – that women's careers are as important as men's – even in the 1980s when I was a teenager was still, sadly, not the norm. But Brenda's example made it clear to me that a satisfying career was both possible and vital.   
My Accidental Career reflects on many aspects of Brenda's career as well as displaying her characteristic wit, verve and delicacy of touch. 
As Chris Gordon notes in the Readings monthly Brenda is considered one of Australia's finest biographers and My Accidental Career explores just how she became this. She has also worked variously as an academic, literary critic, book reviewer, and perhaps surprisingly – given in the book Brenda confesses to not being much of a fine diner – a some-time contributor to the Age Good Food Guide. She has been awarded an Order of Australia, an Honorary Doctorate of Letters – and in 1990 she was invited to be a member of the prestigious Australian Academy for the Humanities. The English section of the Award had, until that point, elected only one woman, Dame Leonie Kramer, in – wait for it – 1969.  Brenda has won a dazzling number of awards for her writing including the National Biography Award, the Victorian Premier's Prize for Literature, the Queensland Premier's Literary Award, the Australian Literature Society's Gold Medal – as well as countless shortlistings in other major prizes, including the Melbourne Prize for Literature.
Born in 1930, at a time when girls were expected only to get married and have children, with work a brief, occasionally pleasant interlude to be abandoned upon marriage, Brenda's career has been exceptional...
FRIENDS OF THE CHILLER
SUBSCRIBE TO TEXT'S NEWSLETTER