Helen Garner Wins WA Premier's Prize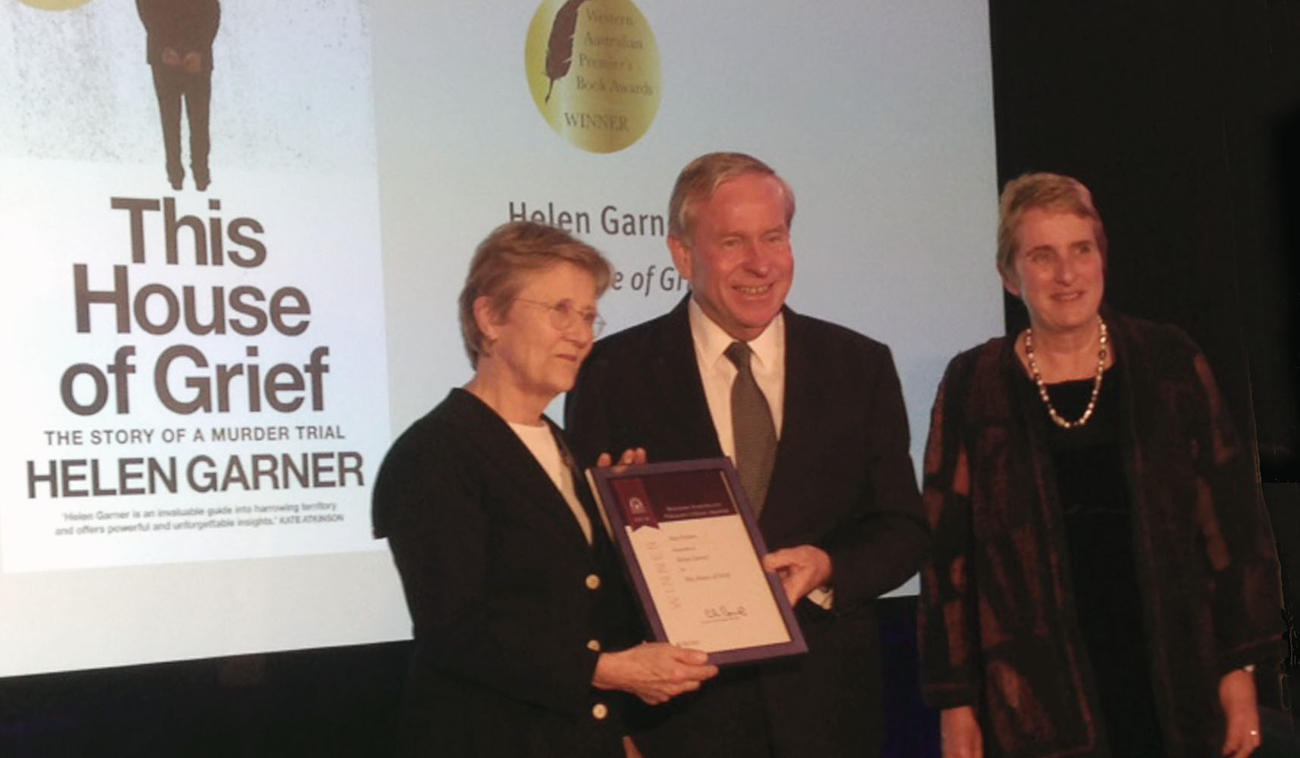 Congratulations to Helen Garner on winning both the non-fiction and overall premier's prizes at the 2016 Western Australian Premier's Book Awards for This House of Grief.
This House of Grief is the heartbreaking and compelling story of Robert Farquharson, who was convicted of the murder of his three young sons after plunging their car into a dam. Helen Garner tells the story of a man and his broken life; she presents the theatre of the courtroom in the extraordinary quest for justice. Author Kate Atkinson describes Helen Garner as 'an invaluable guide into harrowing territory and offers powerful and unforgettable insights. This House of Grief, in its restraint and control, bears comparison with In Cold Blood.' Read more extraordinary praise for This House of Grief.
Once there was a hard-working bloke who lived in a small Victorian country town with his wife and their three young sons. They battled along on his cleaner's wage, slowly building themselves a bigger house. One day, out of the blue, his wife told him that she was no longer in love with him. She did not want to go on with the marriage. She asked him to move out. The kids would live with her, she said, and he could see them whenever he liked. She urged him to take anything he wanted from the house. The only thing she asked for, and got, was the newer of their two cars.
Continue reading this extract.
Helen Garner is renowned for her award-winning novels, stories, screenplays and works of non-fiction. In 2006 she received the inaugural Melbourne Prize for Literature. Her novel The Spare Room, published in 2008, won the Victorian Premier's Literary Award for Fiction, the Queensland Premier's Award for Fiction and the Barbara Jefferis Award, and has been translated into many languages. This House of Grief was named Best True Crime book in the 2015 Ned Kelly Awards and her latest book is the much-loved non-fiction collection Everywhere I Look. In 2016 she was awarded the Windham-Campbell Prize for Non-Fiction.
Watch an interview with ABC Book Club's Jennifer Byrne. Find more interviews here.
Congratulations to all WA Premier's Book Awards winners. You can find the full honour roll at the State Library of WA.
FRIENDS OF THE CHILLER
SUBSCRIBE TO TEXT'S NEWSLETTER