Congratulations to the Winners of the 2016 NSW Premier's Literary Awards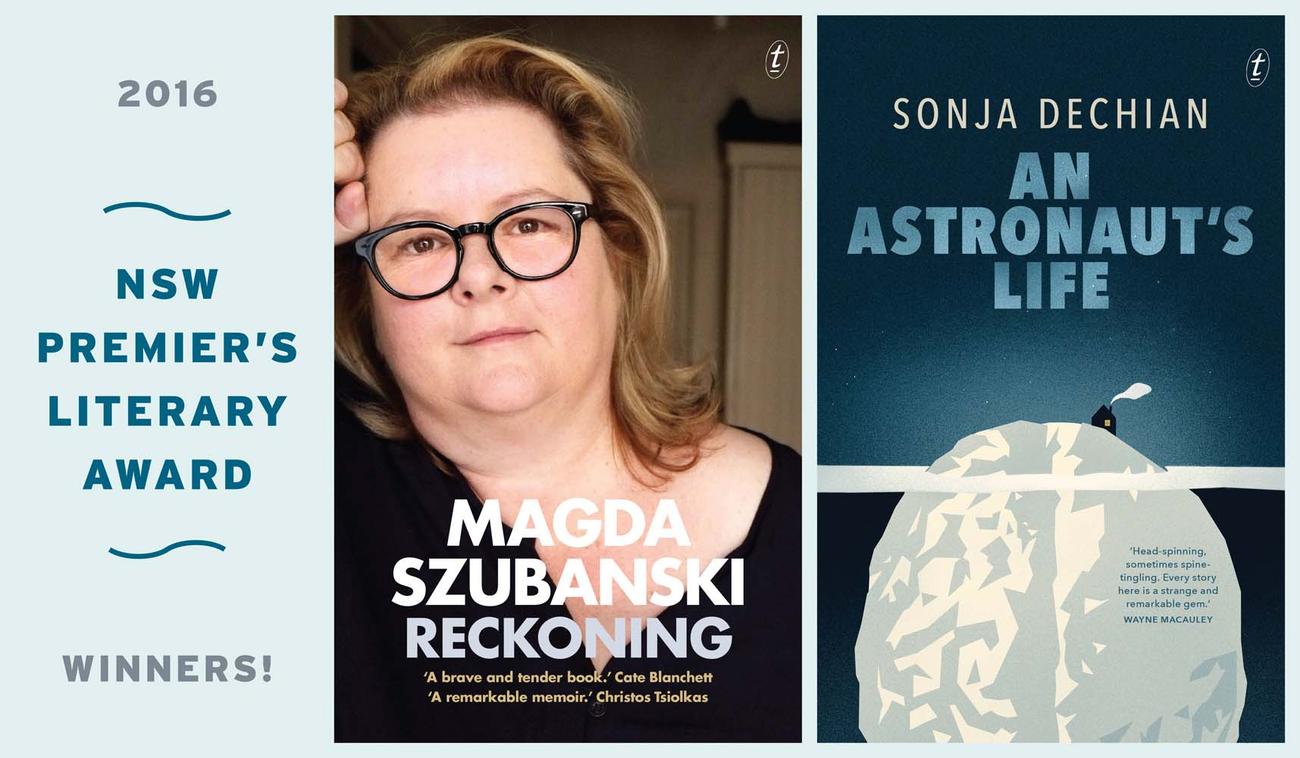 Sonia Dechian's An Astronaut's Life is the winner of the 2016 UTS Glenda Adams Award for New Writing and Magda Szubanki's Reckoning is the winner of the 2016 Douglas Stewart Prize for Non-Fiction. 
An Astronaut's Life is a deeply affecting collection of short stories. In sparkling prose, Sonja Dechian's stories speak to our deepest yearning for connection and the inevitability of our isolation. From a terrorist cell of cyber-bullying victims working to annihilate the digital memory of their humiliation to a pandemic that leaves grieving parents battling for the media spotlight, these tales invite us to examine our inability to control the world around us—and our own desires.
The UTS Glenda Adams Award is for a published book of fiction written by an author who has not previously published a book-length work of narrative fiction or narrative non-fiction. 
Judges' comments: 'Dechian is a bold new voice in Australian fiction. In this debut collection she offers a provocative and exciting range of voices and scenarios. Her images, characters and unsettling possibilities hover long after the covers are closed.'
Reckoning continues its wonderful run, following a recent win at the Indie Awards and multiple shortlistings in the Australian Book Industry Awards.
In this extraordinary memoir, Magda describes her journey of self-discovery from a suburban childhood, haunted by the demons of her father's espionage activities in wartime Poland and by her secret awareness of her sexuality, to the complex dramas of adulthood and her need to find out the truth about herself and her family. With courage and compassion she addresses her own frailties and fears, and asks the big questions about life, about the shadows we inherit and the gifts we pass on. 
The Douglas Stewart Prize is for a prose work other than a work of fiction. Books including biographies, autobiographies and works of history, philosophy and literary criticism may be nominated provided they display literary qualities.
Judges' comments: 'The judges commend Magda Szubanski's Reckoning as a book that is compelling from its first page. It is warm, clear, wise, funny and deeply intelligent. The amplitude of Szubanski's writing is particularly impressive. Her voice has a light surety, while constantly giving narrative and moral weight to the larger themes of grief, family, migration and finding one's place in the world.'
Congratulations to all the award winners. You can read more about the NSW Premier's Literary Awards here.
FRIENDS OF THE CHILLER
SUBSCRIBE TO TEXT'S NEWSLETTER