Congratulations to Aurealis Award Shortlistees Trent Jamieson and Ilka Tampke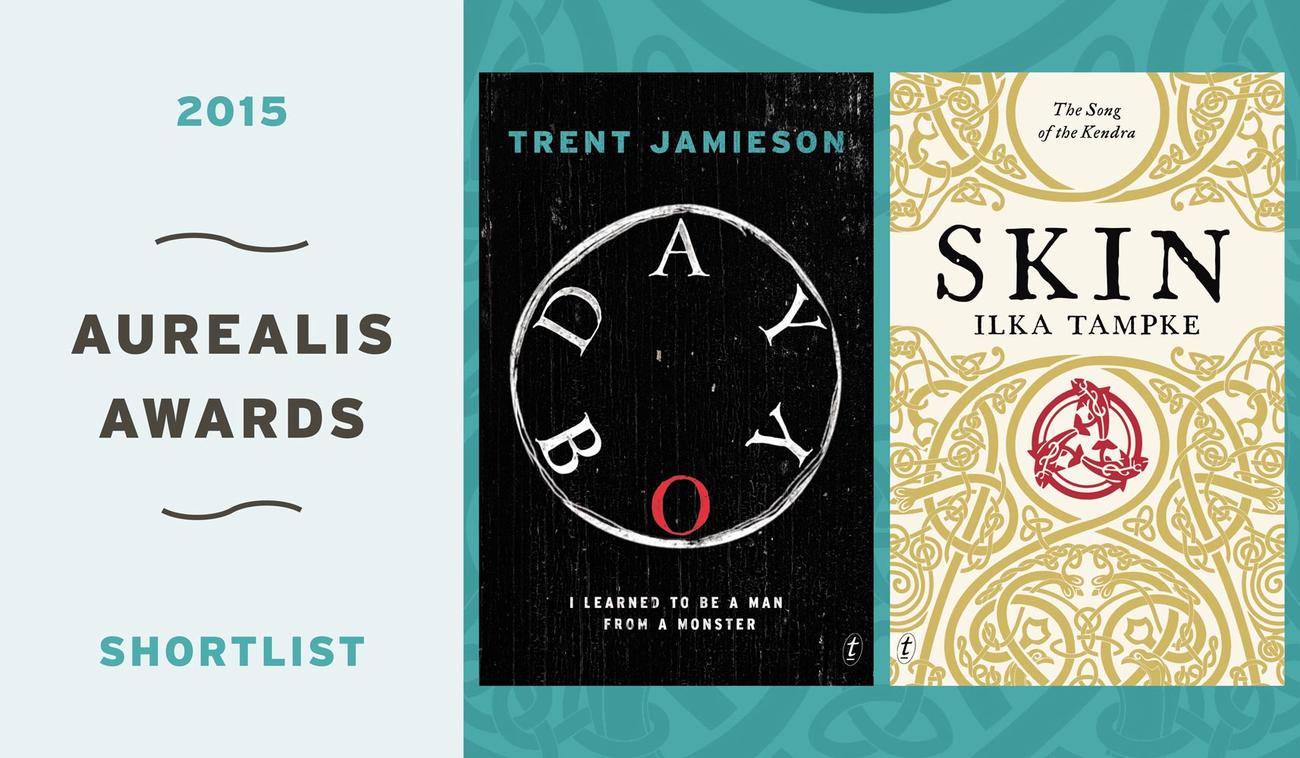 Congratulations to Trent Jamieson and Ilka Tampke, whose books have been shortlisted in the 2015 Aurealis Awards.
Trent Jamieson's Day Boy has been shortlisted in both the Best Young Adult Novel and Best Fantasy Novel categories, and Skin by Ilka Tampke has been shortlisted for Best Fantasy Novel. 
The Aurealis Awards were established in 1995 by Chimaera Publications, the publishers of Aurealis magazine, to recognise the achievements of Australian science-fiction, fantasy and horror writers. 
In Day Boy Trent Jamieson reimagines the elements of the vampire myth in a wholly original way. In a post-traumatic future the Masters—formerly human, now practically immortal—rule a world that bends to their will and a human population upon which they feed. Invincible by night, all but helpless by day, each relies on his Day Boy to serve and protect him. Mark is a Day Boy nearing adulthood, who must make the choice between becoming a master, or becoming a man. This is a beautifully written and surprisingly tender novel about fathers and sons, and what it may mean to become a man. Day Boy was also this week shortlisted for the Ditmar Award for Best Novel.
'At the fingertips of a gifted writer there will always be new and interesting takes on the vampire tale and happily, Day Boy is one of them.' Melbourne Review of Books 
'In Day Boy, Jamieson has kept all of the central facets of vampire mythology while fashioning something new and often riveting. Poetic and meditative—at times frightening, visceral and bloody—this is a dark journey worth making.' Aurealis 
Watch a video of Trent talking about Day Boy. 
Ilka Tampke's Skin takes us back in time to Southwest Britain, AD 43. For the people of Caer Cad, 'skin' is their totem, their greeting, their ancestors, their land. Ailia does not have skin. Abandoned at birth, she serves the Tribequeen of her township. Ailia is not permitted to marry, excluded from tribal ceremonies and, most devastatingly, forbidden to learn. But the Mothers, the tribal ancestors, have chosen her for another path. 
Set in Iron-Age Britain on the cusp of Roman invasion, Skin is a thrilling, full-blooded novel about the collision of two worlds and a young woman torn between two men. 
'I loved the depth, sincerity and beauty of Skin. It gives a name and a shape to our capacity for yearning.' Isobelle Carmody 
'Skin is a beautiful and brilliant book, a masterpiece.' John Marsden 
Listen to Ilka Tampke talking on ABC Radio National with Michael Cathcart. 
Winners of the 2015 Aurealis Awards will be announced at a ceremony on Friday 25 March as part of the Contact national convention at the Hotel Jen, Brisbane. For further details visit www.aurealisawards.org.
FRIENDS OF THE CHILLER
SUBSCRIBE TO TEXT'S NEWSLETTER