Coming 16 May: The War that Saved My Life, 2016 Newbery Honor Book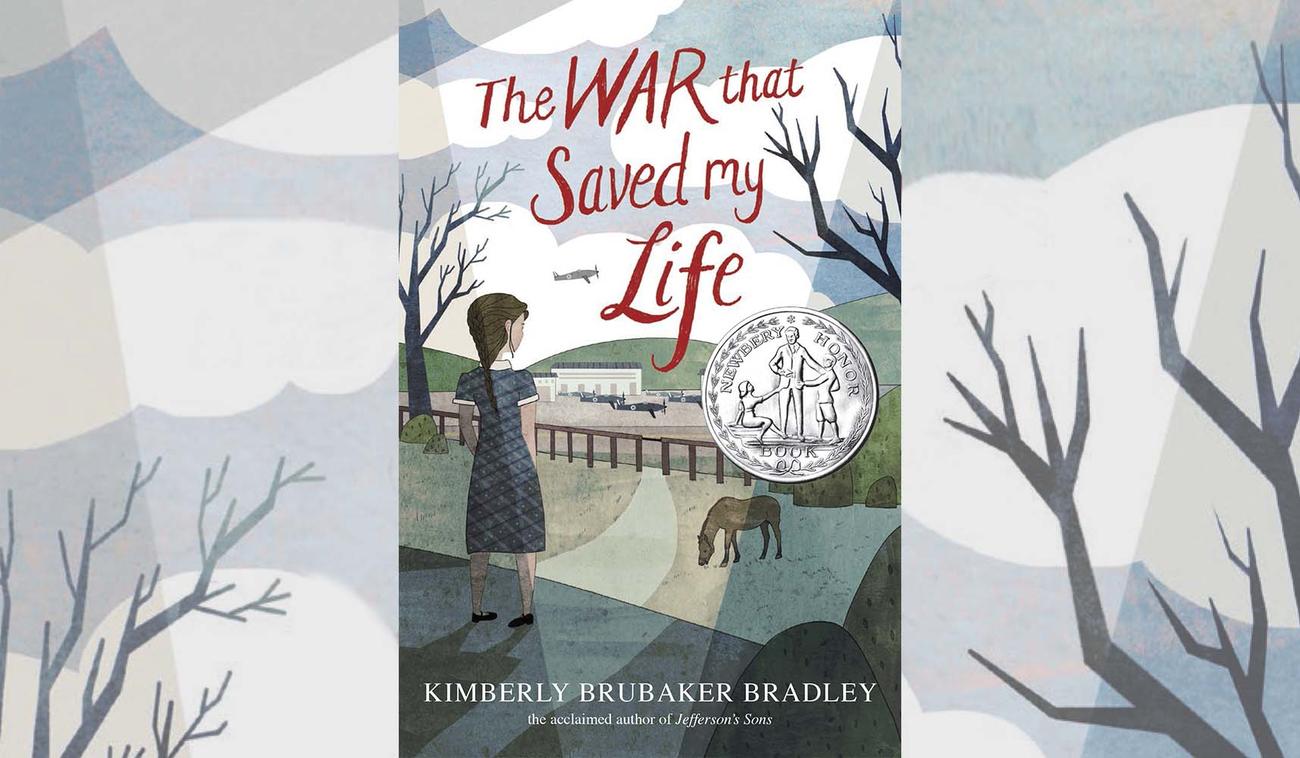 Text has just acquired The War that Saved My Life by Kimberly Brubaker Bradley—a 2016 Newbery Honor Book and winner of a Schneider Family Book Award and the Josette Frank Award.
The War that Saved My Life is an exceptionally moving story of triumph against all odds set during World War II.
Nine-year-old Ada has never left her one-room apartment. Her mother is too humiliated by Ada's twisted foot to let her outside. So when her little brother Jamie is shipped out of London to escape the war, Ada doesn't waste a minute—she sneaks out to join him. 
So begins a new adventure for Ada, and for Susan Smith, the woman who is forced to take the two kids in. As Ada teaches herself to ride a pony, learns to read and watches for German spies, she begins to trust Susan—and Susan begins to love Ada and Jamie. But in the end, will their bond be enough to hold them together through wartime? Or will Ada and her brother fall back into the cruel hands of their mother? 
This masterful work of historical fiction is a thrilling adventure and a moving tale of family and identity. 
Acquiring editor Penny Hueston said: 'I'm still thinking about Ada and Jamie, about the way the figure of Hitler looms in Ada's imagination, about the planes going down, the rationing, Ada catching a spy—the action and adventure is thrilling! I have to say that as well as Ada's story of finding love, and a family, it was the fascinating character of Susan whom I found utterly engrossing. The pain and grief she experiences is palpable. The way the author focuses on how love can grow out of pain, and how it is a force for healing in the lives of the characters, is an exceptional feat. Young readers will see how families can be made in all sorts of ways. And that people don't have to feel victimised; that their understanding of their circumstances will change as they grow and learn—and, above all, learn to love. 
'This delightful novel,' said Kirsty Wilson, sales and marketing director, 'took me back to being nine years old, finishing school on a Friday afternoon and knowing I had days to luxuriate in books. It is both an original take on the Blitz and a story that we already know and love—of a child learning her value, and finding a home and becoming part of a patchwork family. It echoes the best children's classics but is fresh, charming, and enlightening about a real historical event. The War that Saved My Life reminds us of what great stories are made: memorable characters, great settings, a sense of historical perspective and the largeness of life.' 
And publicist Stephanie Speight agreed: 'The War that Saved My Life made me feel fear and wonder, as if I were there myself. My heart broke for Ada, over and over ('I had so much. I felt so sad.'), and I wanted so much for her life to go well. The strength of her spirit, and the subtly complex characters that surround her, made this book an absolute joy to read. I can't wait to share it with readers.'
The War that Saved My Life has already been featured on at least eighteen 'best of' lists in the US, including: 
Wall Street Journal, Best Children's Books of 2015
Publishers Weekly, Best Books of the Year
Amazon, Best Books of the Year
Kirkus Reviews, Best Middle Grade Books of 2015
The New York Public Library, 100 Books For Reading & Sharing 
More Praise for The War that Saved My Life
'Ada's personal fight for freedom and ultimate triumph are cause for celebration.' STARRED Review, Kirkus 
'In this poignant story, Bradley celebrates Ada's discovery of the world outside her dismal flat, movingly tracing her growing trust of strangers and her growing affection for Miss Smith.' STARRED Review, Publishers Weekly 
'Achingly lovely...Nuanced and emotionally acute, this vivid tale from the wartime home front will have readers ages 10-14 wincing at Ada's stumbles and rejoicing to the point of tears in her victories.' Wall Street Journal 
'An involving, poignant, nuanced portrait of healing and rebuilding.' STARRED Review, Horn Book 
'There is much to like here—Ada's engaging voice, the vivid setting, the humor, the heartbreak, but most of all the tenacious will to survive.' School Library Journal 
'The home-front realities of WWII, as well as Ada's realistic anger and fear, come to life in Bradley's affecting and austerely told story, and readers will cheer for steadfast Ada as she triumphs over despair.' Booklist 
The War that Saved My Life will be published by Text in May 2016. Sign up to Text's newsletter to keep in touch with all the latest news.
FRIENDS OF THE CHILLER
SUBSCRIBE TO TEXT'S NEWSLETTER