Announcing the winner of the 2022 Steph Bowe Mentorship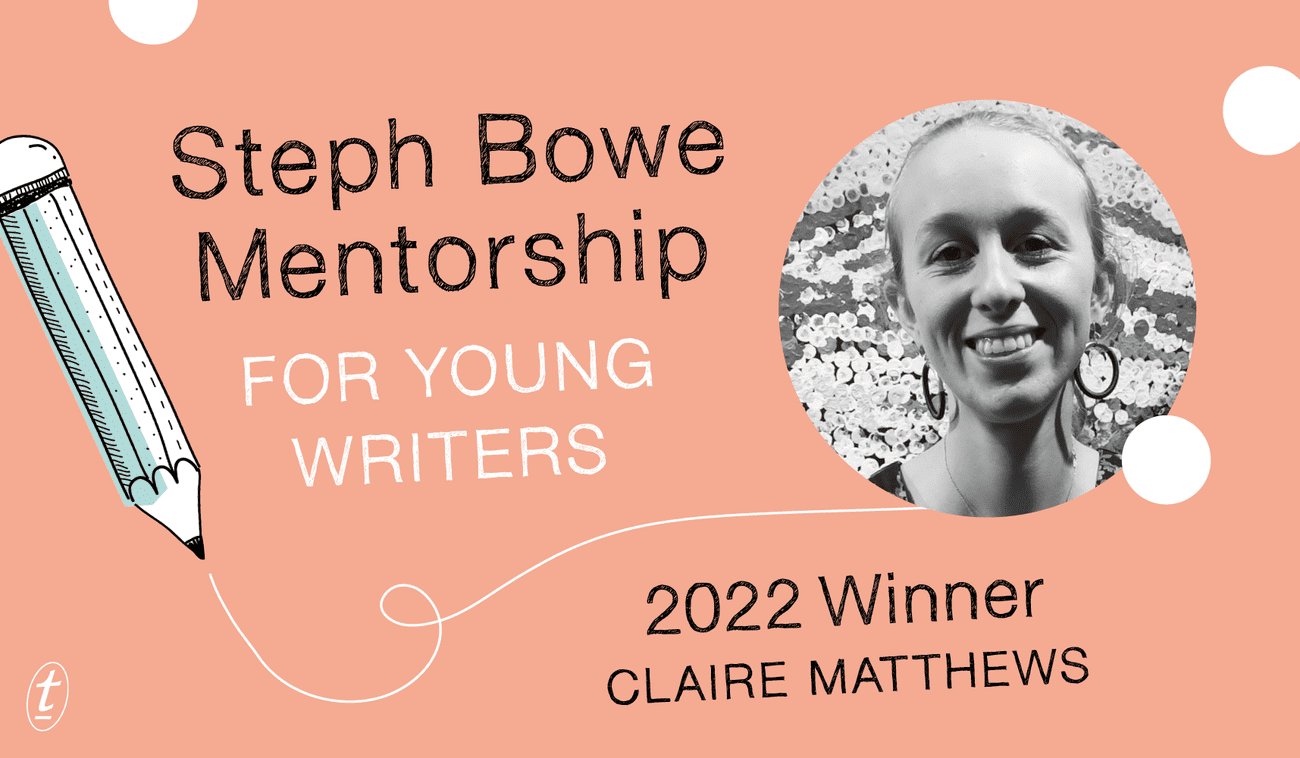 Claire Matthews has been selected as the recipient of the 2022 Steph Bowe Mentorship for Young Writers. The mentorship is designed to encourage an exciting new writer in Australian children's literature under the age of twenty- five. It is awarded to the Text Prize entrant the judging panel believes would receive the most benefit from the mentorship.
Claire will be paired with an established author for a twenty-hour mentorship to develop her manuscript, Between the Water and the Sand. She will also receive a twelve-month membership with Express Media, Voiceworks and Queensland Writers Centre.
Claire Matthews has dreamed of becoming a writer from a young age. She writes stories set in Queensland, taking inspiration from family caravan trips. She has a Bachelor of Fine Arts in Creative and Professional Writing with Distinction from Queensland University of Technology. Her articles have been published in The Creative Issue and ClassikON.
Between the Water and the Sand is an atmospheric YA coming-of-age story about four teenagers who take on the impossible task of building a train line through regional Queensland.
Claire said, 'I'm thrilled to receive the Steph Bowe Mentorship for a Young Writer! I can't wait to meet my mentor and work with them to develop my story.'
Senior Editor Penny Hueston said, 'We are very proud to continue to support the Steph Bowe Mentorship in honour of the life and work of a wonderful writer.'
The mentorship was established in memory of Steph Bowe's longstanding commitment to fostering and mentoring young writers. Steph's own first book was published when she was sixteen. She became a highly sought-after speaker, who encouraged young writers and travelled around the country to visit schools and festivals. Her books were longlisted for multiple awards and Night Swimming was named a Children's Book Council of Australia Notable Book.
The mentorship is an initiative from Text Publishing delivered in partnership with LoveOzYA. It is supported by Express Media and the National Writers' Centre Network. It began in 2021 and will run for three years.
The previous winners of the mentorship in 2021 were Ellie Casey, mentored by Rebecca Lim, and Emilie Morscheck, mentored by Amie Kaufman.
Entries for the 2023 Text Prize and Steph Bowe Mentorship for Young Writers will open in early 2023.
For all administration enquiries and further information about the Steph Bowe Mentorship, please contact Sophie Mannix: sophie.mannix@textpublishing.com.au



FRIENDS OF THE CHILLER
SUBSCRIBE TO TEXT'S NEWSLETTER