Announcing the 2022 Text Prize shortlist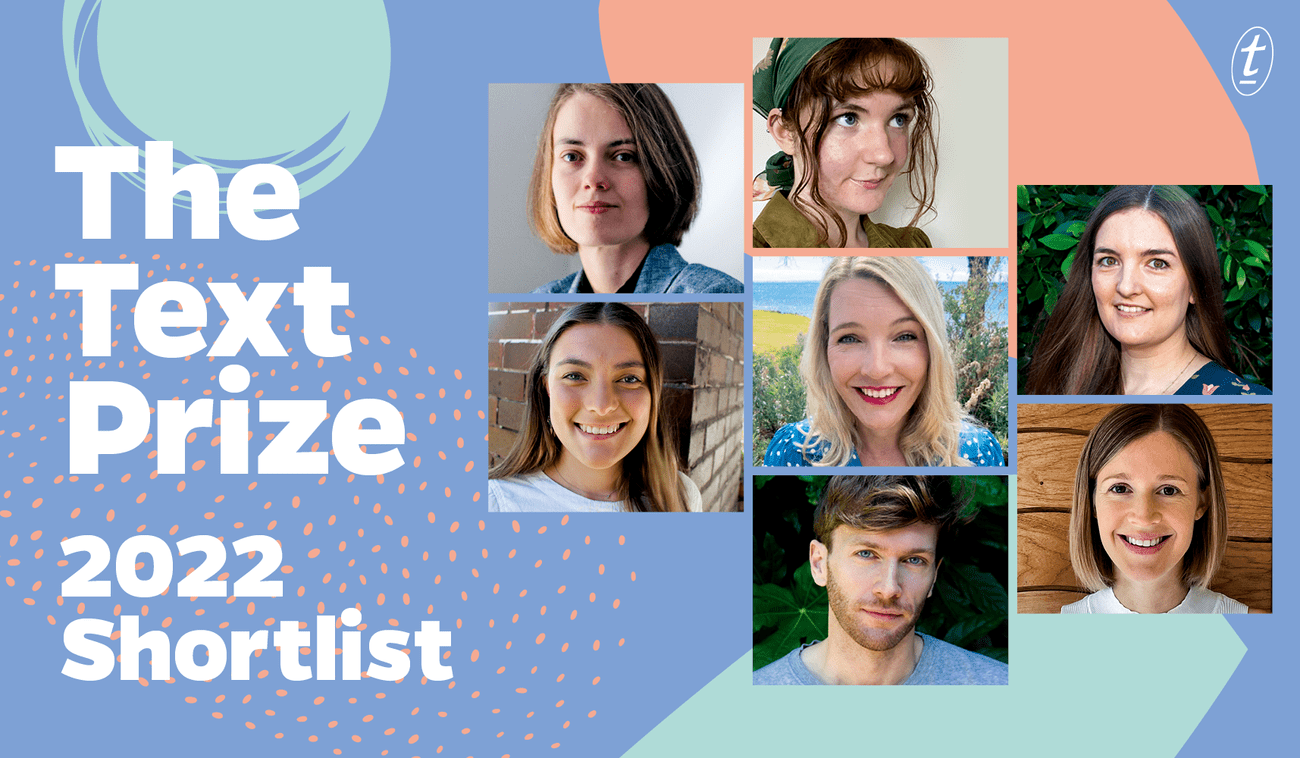 Seven manuscripts have been shortlisted for the 2022 $10,000 Text Prize. The winner and the Steph Bowe Mentorship recipient will both be announced in late June.
---
BELLAMY JONES AND THE LOST TREEHEART by Emily Beck / Middle grade
A rollicking science-fiction adventure about twelve-year-old Bellamy Jones, who – unexpectedly – must participate in a global robotics tournament with her sister's hand-built robot in a quest to save her family's home. Along the way, she befriends a bird-tamer,a forest sentinel and a robot mega-fan. Oh, and the robot dances.
Emily Beck lives in Perth. She has a bachelor of arts from the University of Western Australia with honours in creative writing. She writes science fiction and fantasy for all age groups. Bellamy Jones and the Lost Treeheart is her first middle-grade novel.


HOW TO BE NORMAL by Ange Crawford / YA
By graduation, seventeen-year-old Astrid will be a Completely Normal Adult. But returning to school after years of home-schooling is a complete disaster – until she befriends Cathy, star of musicals and breaker of rules. This YA contemporary novel has everything: friendships, tightly kept secrets and a quirky main character figuring out who she is.
Ange Crawford is a queer writer based in Naarm (Melbourne). Working across writing genres to explore language, love, embodiment and art, Ange has written for publications such as Archer, un Extended and Asymptote. She won the short-story category of the 2020 Melbourne Lord Mayor's Creative Writing Awards and was a finalist for the 2021 Freeplay Award for Excellence in Narrative.


ONE THING YOU CAN FEEL by Robbie Taylor Hunt / YA
An energetic and pacy dark fantasy about confronting your deepest fears and the power of friendship. When Rafiq is dragged into a terrifying world where everyone embodies their worst fears, the only way to escape is to help his newfound friends harness their unique abilities. But what is Rafiq's deepest fear, and how can it help him now?
Robbie Taylor Hunt (he/him) was born in Kirikiriroa, Aotearoa, and grew up both there and overseas. He has worked with youth theatre groups for eleven years, creating new plays and facilitating workshops. This year he finished his master of arts at Te Herenga Waka – Victoria University of Wellington. He is passionate about LGBTQIA+ narratives. 


YEAR OF THE DOG by Kate McCabe / Middle grade
When the Australian Border Force is seeking foster carers for their new puppies, eleven-year-old Lewis is keen to prove to his parents that he can look after a dog of his own. This sweet and tender middle-grade novel explores the challenges of self-discovery, learning to navigate the world as a neurodivergent child and taking care of a life that isn't your own.
In 2019, Kate McCabe finally realised she could no longer ignore her childhood dream of being an author. In the following twelve months, she was highly commended in the Wheeler Centre's Next Chapter program, her non-fiction children's picture book was acceptedby CSIRO Publishing, and several of her other works were recognised on a smaller scale.


FINDING LIMINAS: THE SUDDEN TREE by Bria McCarthy / YA
Twenty years before Ember's birth, giant weather monsters called the Seasons attacked and destroyed her home. Ever since, her world has been at war with the earth, battling its unpredictable magic. This fantasy novel reimagines Australian landscapes and explores finding courage in a world that is afraid.
Bria McCarthy is an Irish–Wiradjuri artist working on Dharug land who practises a variety of artforms such as writing, theatre-making, film-making and puppetry. In 2019 she wrote and directed her debut play, A Game for Flies, which played independently at PYT Fairfield. She has worked with arts organisations across Sydney, including PYT, Q Theatre, ATYP, Outloud and Shopfront Arts Co-op. In 2021 she was a part of Western Sydney University's The Writing Zone, where her work was published in two anthologies.


THE COLLECTOR OF GIFTS by Jamie Ramjan / YA
At birth, every child in the Empire of Edan is placed in an orphanage to develop their unique, mystical gift so that they can help save their world. But when Willa finds out that she is about to be taken elsewhere, she isn't so sure that everything is as it seems. This page-turning novel combines elements of classic and contemporary fantasy.
Jamie Ramjan is a bilingual writer and software engineering graduate living on Gadigal land. Obsessed with creating new worlds and alternative realities, she has completed several creative writing courses. Jamie is passionate about intersectional representations of Eurasian heritage.


LET'S NEVER SPEAK OF THIS AGAIN by Megan Williams / YA
Abby and Ella are best friends, sixteen years old and excited to be entering the world of parties, romance and newfound independence. When Chloe arrives she fits right in and everyone adores her – which is not quite what Abby expected. She loves Chloe too, but a subtle shift in the bonds of friendship unsettles her and she searches for a way to re-establish the connection with Ella that she knows deep down will always be there. It's hard not to be swept away by this novel's warmth, depth and nuance.
Megan Williams worked as an employment lawyer before moving into human resources. She lives in Brisbane with her husband and two daughters. Let's Never Speak of This Again is her first novel.


For publicity enquiries, please contact Sophie Mannix
Email: sophie.mannix@textpublishing.com.au




FRIENDS OF THE CHILLER
SUBSCRIBE TO TEXT'S NEWSLETTER