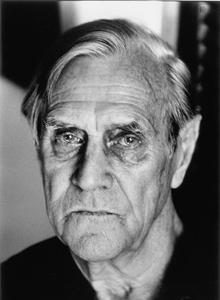 High resolutionuser
Patrick White was born in England in 1912 and taken to Australia, where his father owned a sheep farm, when he was six months old. He was educated in England and served in the RAF, before returning to Australia after World War II.
Happy Valley, White's first novel, is set in a small country town in the Snowy Mountains and is based on his experiences in the early 1930s as a jackaroo at Bolaro, near Adaminaby in south-eastern New South Wales.
In Happy Valley White found a more honest 'lumbering after truth' than in the plays he had written to date. He said, 'I began to write from the inside out when Roy de Maistre introduced me to abstract painting', and he dedicated the novel to the artist.
White went on to publish twelve further novels (one posthumously), three short-story collections and eight plays. His novels include The Aunt's Story and Voss, which won the inaugural Miles Franklin Literary Award, The Eye of the Storm and The Twyborn Affair.
He was the first Australian to win the Nobel Prize for Literature, in 1973, and is considered one of the foremost novelists of the twentieth century.
White died in 1990, aged seventy-eight.
REVIEWS

Lit Hub: On Patrick White, Australia's Great Unread Novelist