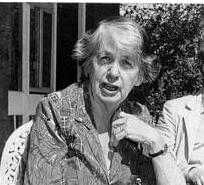 High resolutionuser
Olga Masters was born in Pambula, on the far south coast of New South Wales, in 1919. Her first job, at seventeen, was at a local newspaper, where the editor encouraged her writing. She married at twenty-one and had seven children, working part-time as a journalist for papers such as the Sydney Morning Herald, leaving her little opportunity to develop her interest in writing fiction until she was in her fifties.
In the 1970s Masters wrote a radio play and a stage play, and between 1977 and 1981 she won a series of prizes for her short stories. Her debut collection, The Home Girls, won a National Book Council Award in 1983. It was followed by a novel, Loving Daughters, which was highly commended for the same award. Her next books, the linked stories A Long Time Dying and the novel Amy's Children, met with critical acclaim. This brief but highly prolific period ended when Masters died, following a short illness, in 1986. She had been at work on The Rose Fancier, a posthumously published collection of stories.
Reporting Home, a selection of Masters' extensive journalism, was published in 1990. A street in Canberra bears her name.