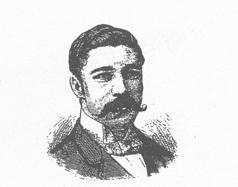 High resolutionuser
Fergus Hume was born in England in 1859. His family soon immigrated to New Zealand, where Hume qualified as a lawyer. He was admitted to the bar in 1885 and moved to Melbourne in the same year.
Desperate to become a playwright but having no success, Hume decided to write a murder novel instead. When he couldn't find a publisher for The Mystery of a Hansom Cab he published it himself. It was a sensation and sold over twenty thousand copies in Melbourne.
With a hit on his hands, Hume sold his copyright to the Hansom Cab Publishing Company in London for fifty pounds. The book was a phenomenal success but Hume never saw another penny from his bestseller. It may have influenced Sir Arthur Conan Doyle's A Study in Scarlet, the first Sherlock Holmes adventure.
Hume moved back to England in 1888 after the publication of his second novel, Madame Midas. He embarked on a career that produced over 130 novels. He never became a famous playwright but he did co-write the theatrical adaptation of The Mystery of a Hansom Cab, which played in London for five hundred nights. The story was also filmed three times in the silent era.
Fergus Hume died in 1932.