Michael Heyward at the Age Live: Is There a Future for Australian Stories?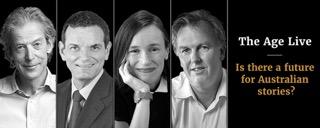 The Age Live: Is there a future for Australian stories?
The Australian government has recently said it will consider a number of changes to the way books are published in Australia in a bid to boost competition and encourage innovation.
These changes have generated significant debate, with those in the book industry—from writers to publishers—viewing them as a threat to the future of Australian stories. And collectively campaigning against the changes under #SaveOzStories.
Join the Age's Literary editor, Jason Steger, in conversation with the panel—Nikki Gemmell (author), Peter Martin (economics editor, Age), and Michael Heyward (publisher, Text Publishing)—as they debate the issues on both sides and the effect the proposed changes will have on Australia's publishing industry.
Will the changes make us more competitive, resulting in cheaper books for consumers and more timely access to titles? Or do they devalue the contribution of Australian authors and publishers—risking a reduction in books published, loss of jobs, and less investment in emerging talent and support for existing writers?
This event is exclusive to subscribers of the Age. Tickets are just $10 for subscribers and their guests, and include pre-event drinks and canapés (6.00pm) and discussion (6.30pm-8.00pm).
More information and bookings