Epic Fail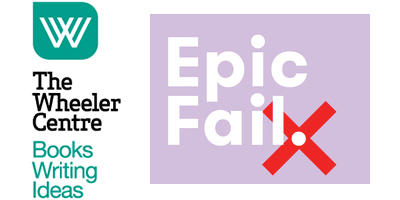 If you want to succeed, you have to start by failing, and failing big. If you haven't experienced the downside, the frustration, the rejection, then how can you appreciate the sweetness of success when it finally comes?
Australians from all walks of life come together on one big night to revel in the obstacles they have surmounted and the failures that have propelled them to the top of their game.
Join Stella Prize-winning author Clare Wright plus the reigning queen of rice-paper rolls, Nahji Chu, ARIA award-winning singer/songwriter Sarah Blasko, Paralympian Sam Bramham, Saturday Paper editor Erik Jensen, lawyer and human rights advocate Julian Burnside, former independent MP Rob Oakeshott, and Australian comedian and actress Julia Morris, for an evening of tales guaranteed to amuse, thrill…and convince you that an epic fail is not necessarily the end of the story. For these inspirational Australians, spectacular failure has proven to be little more than a bump in the road to genuine greatness. Go fail!
For bookings and more information, visit The Wheeler Centre website.